OK, so the raw food thing is over. I officially DID NOT make it the whole month. I think it was 23 days. That's still pretty good right? I think so. Besides, I went longer than anyone thought I would.
I cannot say enough about how good I felt eating raw food. I felt fantastic. I had lots of energy and I was losing weight. If I had gone on for longer I might have even experienced the amazing skin, and lesser sleep requirements that I heard so much about.
But, there were a couple of big problems with my raw food experiment.
1. COST
Good quality produce is not cheap! Seriously. When a tiny little container of berries is $3 and I'm eating 2 of them a day…not to mention a head of lettuce, and 4 bananas, it adds up, even more so if you really follow the rules and go all organic. Then there are the raw but prepared items you can buy at the organic stores. A bag of kale chips would set you back $7-9, and a tiny package of dehydrated crackers (think 6 crackers) would be at least $4. I tried to stay away from those sorts of things, but still, I think a regular eating at home day would come to $15-20, and that's being conservative (no fancy cashews or macadamia nuts for this girl). Maybe that doesn't sound so bad if you're someone who is used to eating out all the time, but let's do the math here, $20/day for 365 days. That's $7300 a year in food. Fruits and vegetables only. No eating out, no fancy desserts. Imagine trying to do that with a family of four? Not to mention the personal chef you would have to hire in order to have time to prepare everything!
Not only is the food expensive, the accessories are too. I thought I had it covered. I have a blender, my roommate has a food processor (thank goodness), and I could use the oven to dehydrate. For a month, it should be fine. NOT TRUE. First of all, my oven is digital, and apparently only goes as low as 170. The cut-off temperature for raw food being 118 means…no oven dehydrating for me. I mean I suppose I could prop the oven door open (and pay the hydro bill for 10 hours straight of the oven being on) as well as purchasing a digital food thermometer to determine to exact internal temperature of my food…OR I could shell out the $500 for the dehydrator. BUT, none of these options seemed financially responsible.
Then there is the blender issue. Apparently not all blenders are created equally. OK, obvious, but I still thought I could get by. Then my blender met kale. My blender started smoking, and I spent the next 20 minutes picking kale pieces out of the blades… Apparently what I really needed was a Vitamix. I mentioned this beautiful machine once before. And she is certainly a thing of beauty. For $500 she better be.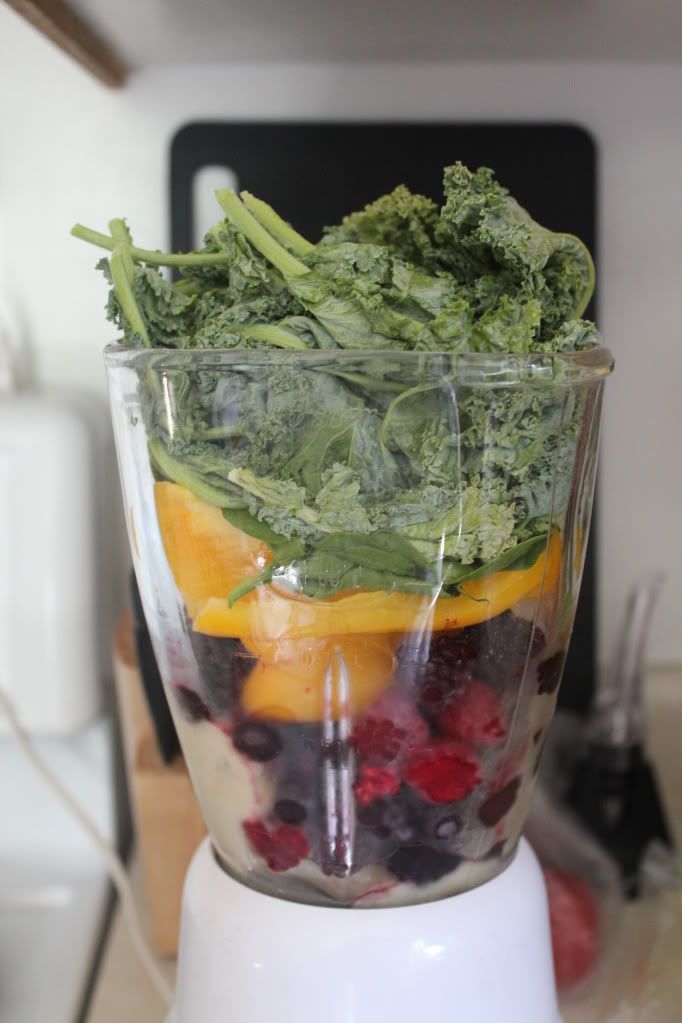 2. I LOVE COOKING
I experimented with a couple different kinds of bars. I tried kelp pasta with pesto. I made more salads than I can name. But, it's just not the same (no rhyme intended). Blending, chopping and processing are not cooking. They're like the prep work of cooking. The boring part that restaurants hire high-school kids to do. Soaking a (very expensive) pile of cashews, and then processing them and putting them in a mold to make "cheesecake" will never be the same as baking. So, there's a lot of work, a lot of time, a lot of prep, but none of the fun stuff.
3. ORGANIZATION
I am organized, but not organized enough for raw food. I tend to think of what I'm going to have for dinner sometime in the morning. That way, if I need to pick something up at the grocery store, or take something out of the freezer, I have lots of time. Eating raw requires WAY more forethought than that. For example, if I want to make a salad using wild rice I need to know this at least 3 days in advance so that I can soak the rice. In fact, any nut, seed, or grain requires minimum an hour of soaking time, but overnight is usually the standard. I also need to know what produce I will need to make that meal in three days, because most likely the things I have on hand now will be gone (fresh produce only lasts so long), and plan a grocery shopping trip for those items.
So, my complaints are not really that serious. It takes time, work, and some serious organization and dedication. Unlike some meal plans or diets, there are no sketchy substitutes, and no preservatives. Two big bonuses for me were that I used VERY MINIMAL packaging, and ate way less meat (I could only handle so much sashimi and prosciutto). If you want to try something new, or just want to kick-start a healthy eating lifestyle, I HIGHLY recommend trying out raw food. I know there are quite a few things that I will be incorporating into my lifestyle from now on.
Now, it's a new month, so there is a new challenge. Of course, right? During my raw-food trial I was told about many different diets ranging from slightly (OK more than slightly) odd, like freeganism (the practice of only eating things that are free, which includes foraging, dumpster-diving, and plate-scraping), fruitarian (eating mostly fruits, or things that fall naturally from a plant), and one-ingredient only. I was very intrigued by the one ingredient only (exactly what it sounds like), and was about to go that route. THEN, my roommate suggested I do something CRAZY.
Eat Normally.
I know, it's pretty intense.
It makes sense though. I mean, here's the routine. I do some sort of eating experiment (gluten-free, lactose-free, raw, caveman…) and then I rebel and eat whatever I want. Well, of course I'm going to feel good when I start bringing some structure back into my diet. I'm not sure if I can attribute feeling so great to eating raw (gf, etc…), or just to not eating all the junk I was eating before.
Now I know "normal" is a relatively loaded word, and I don't really want to get into that, but here's what it will mean for me. A 1500 calorie a day meal-plan that includes fruits, vegetables, lean meats and fish, grains, and dairy. I would say the "food-groups", but I'm fairly skeptical about the food pyramid and food guide. I strive to stick to the "edge of the grocery store" philosophy, so that's what I'll be doing. Also, no alcohol, or more specifically 1 drink a week (because sometimes a girl just has to have a beer on a patio).
I'll be tracking and posting my meals on here, so feel free to follow along. I'm on day 3 right now, so stay tuned for a few 1500cal meal-plan posts with pictures and recipes :)
Check out Day 1 here.
Happy (healthy) cooking!