I made these during my gluten-free stint when I was craving some convenient grab-and-go snack foods. They are definitely not low-cal, but they are delicious, and hold up well in your bag for the day.
I might even suggest storing them in the freezer, as they were such a hit that they barely lasted two days! So much for convenient snack food…
Ingredients
3 cups oats
1/2 cup gluten-free all-purpose flour (or regular flour)
1/2 cup honey
1/3 cup brown sugar
1/2 cup melted butter
1 tsp baking soda
1 Tbsp  vanilla
2-3 cups of "stuff",you can make these your own here. I like everything, so I used everything, but the combinations are really endless. If you want less "stuff" add more oats to round out the bars.
Options
- raisins
- dried cranberries
- shredded coconut
- slivered almonds
- sunflower seeds
- chia seeds
- flax seeds
- pumpkin seeds
- miniature chocolate chips
- peanut butter
- whatever else you can think of (let me know, I love having more options)
Instructions
1. Mix everything together. Really, it is that simple. If you want to you can melt/mix the butter, sugar & honey together in a saucepan, and then mix with the dry ingredients.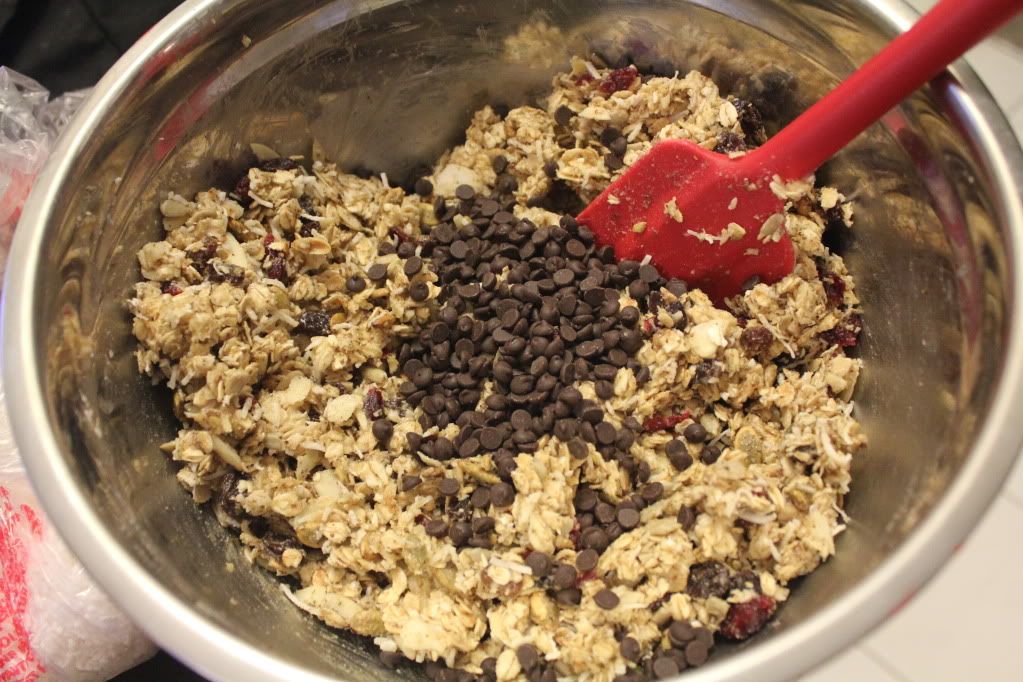 2. Then, decide that you haven't added quite enough ingredients and dump in some chocolate chips, for good measure :)
3. On a greased pan shape the mixture into a brick, you'll be cutting this into your bars, so you can decide how big you would like it.
4. Bake in a preheated 350F oven for about 20 minutes, or until the top is golden brown.
5. Let the bars cool for a few minutes, and then slice them very carefully (they tend to be crumbly while they are still warm) BUT you have to slice them while they are warm. Let them cool a bit more before packaging. These are best to eat at room temperature, but as  I've learned from experience, might do better in the freezer, only so you don't eat them all right away!
Switch it Up Ideas

- Roll the mix into ping-pong size balls and bake
- Roll the mix into marble-sized balls, bake, and coat with melted chocolate (dark chocolate is super yummy)
- Drizzle some melted chocolate on top of your bars, sprinkle some coconut on top
- Add a little more oats and some peanut butter, bake the mixture and then crumble it. Makes delicious breakfast granola.