I don't think about cleaning products very much. I mean, who does? I did my fair share of rebelling against my parents in my day, but I'm fairly certain that when it came time to set up my own apartment, I just went out and bought the same products I grew up with. No thought required. When they are empty, I replace them.
I like to think of myself as an environmentally conscientious person, but clearly, when it comes to cleaning products, I'm fairly oblivious. I know the products I am using most likely (OK, definitely) contain chemicals that are harmful to the environment, but I don't think about it. I also know there are environmentally friendly alternatives out there, but when it comes time to purchase my refill I notice they are more expensive. I tell myself that I will purchase eco-friendly brands when I have more money (in much the same way that I avoid the organic foods aisle when buying fruits and vegetables). I tell myself that the products are probably less effective, or that my contribution won't really make a difference.
Then two things happened at around the same time:
1) I noticed my dog licking my hand after using lemon-scented cleaner (cue light-bulb moment of, "those chemicals are all over the surfaces in my house and my dog licks everything. Those chemicals go down my drain and into the water. If I don't want my dog ingesting those chemicals, why would I want other animals to ingest them?")
2) I saw a post somewhere in internet land for homemade orange-peel cleaner. I thought to myself, "I eat oranges, I have vinegar…why not?"
How to Make Orange-Peel Cleaner
1. Fill a sealable container half-way with white vinegar.
2. Whenever you eat an orange, add the peel to the container. Make sure the outside of the orange is clean, and you are only using the peel (no pulp!), and cut it into wedges.
3. Continue adding peels to the vinegar, ensuring that they are fully submerged. Let the oranges sit in the vinegar 3-4 weeks after the last peels have been added. You can also mix it up and use other citrus fruits like lemons and limes.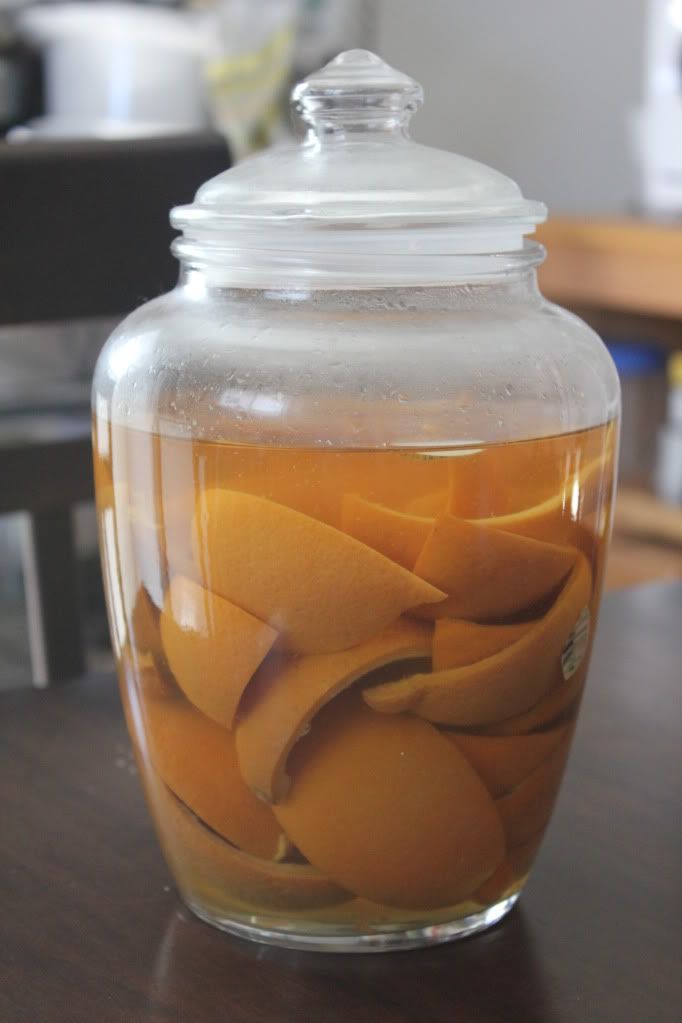 4. After 3-4 weeks, strain the orange peels out over a bowl. You'll notice two things: it smells delicious (not like vinegar at all), and it will be quite oily. This is a good thing. The orange-oil actually breaks down other oils, and this is what makes it such an effective cleaner (does anyone else remember their dad having orange cleaner in the garage?)
5. Once you have your orange-vinegar mixture, dilute it half and half with water and put it in a spray bottle. Voila! You now have a completely non-toxic, effective, and best of all FREE all-purpose household cleaner, oh, and second best of all, it smells AMAZING!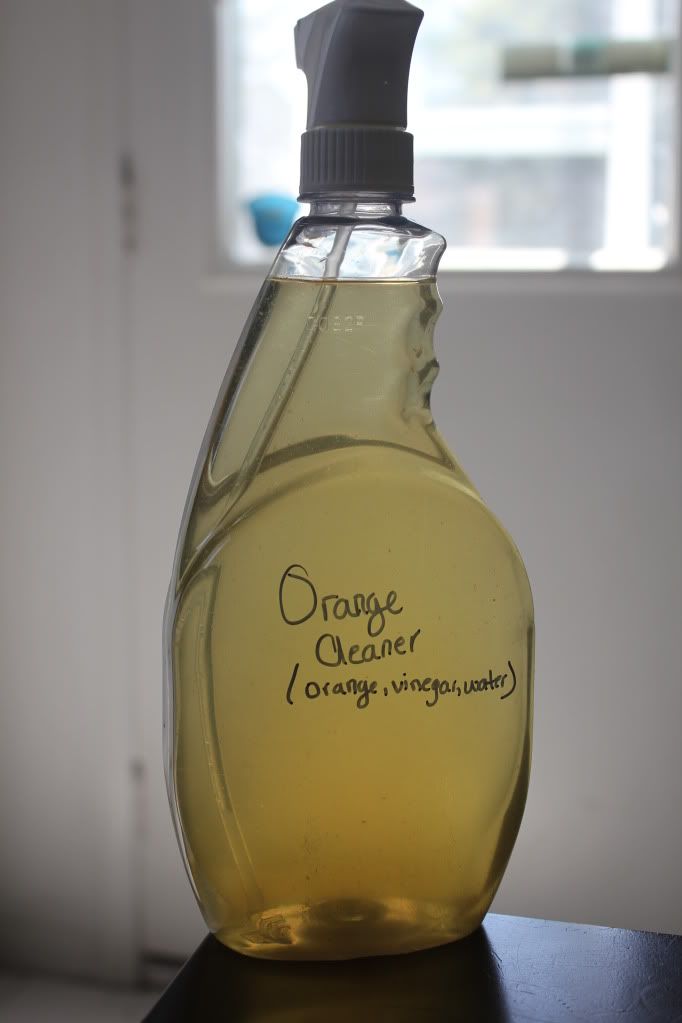 * I re-read the first paragraph and decided it might make my parents come across as earth-haters. No chance of that, my mom was the one who banned pre-packaged lunch products (no fruit roll-ups for me), shunned tin-foil, and taught me to wash and re-use zip-lock bags until they fall apart.