I was pretty proud of myself last night. I cooked a dairy-free, grain-free dinner, that I thought  followed all of the "rules" (which I put in quotations because there are a million of them, and they don't always agree with each other) of the Paleo/HG/Caveman Diet. Chicken Curry over Roasted Cauliflower (recipe coming soon). It was DELICIOUS. Fletch had to stop eating 5-6 times to tell me how amazing it was, and when I would laugh he would chastise me and explain that, "this is not funny, the amazing-ness of this meal is a serious matter".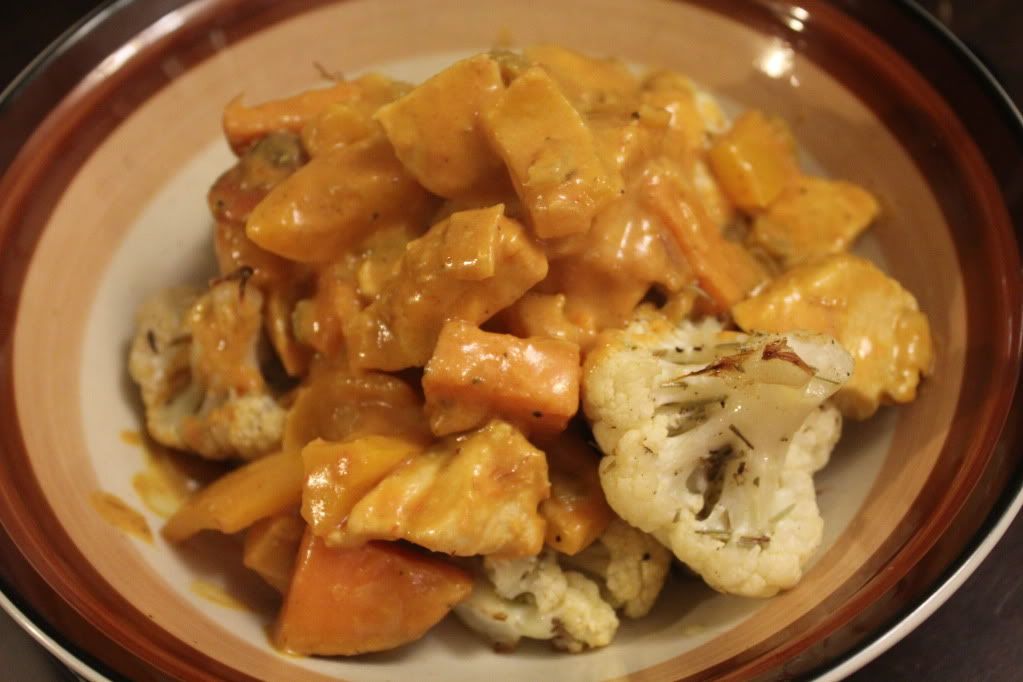 I was so excited in fact that I completely forgot that yesterday was supposed to be Meatless Monday. Maybe my brain was blocking it out due to fear of coming up with a meal using only one of the food groups? It's too bad though, because the curry would have been perfect. All I would have had to do was take out the chicken (it really wasn't the star of the show) and replace with more veggies. Oh well, guess it will have to be tonight instead.
Challenge? Accepted!
Anyway, I've been doing some more research into this whole new diet/way of eating/lifestyle. It started because I put a bit of sweet potato into dinner last night, and then I wasn't sure if that was allowed. I thought I remembered reading somewhere that tubers are in the "no no" category, though I'm not sure why, seeing as you could easily forage them from the ground.
After looking into the matter (wow is there a lot material on this subject!), this is my conclusion. Experts, non-experts, and all of the people in between, are not agreed. In fact, I can say that that is my conclusion about pretty much any question related to the subject of paleo eating.
Those who say you should not eat them (tubers) say that potatoes contain toxins. From what I can tell, this is true to an extent. If a potato is left to turn green (which of course is accelerated by light, like the ones the grocery store uses, because they are out to get you), the green part contains glycoalkaloid poison, this poison is also found in the leaves and stems. It does bad stuff to your insides. Life lesson? Don't eat green potatoes. Others say, enjoy your tubers. Most agree that they should not be a staple of your diet (I'm sure someone, somewhere referenced an historic group of people who subsisted primarily on a diet of tubers).
I also found out that potatoes are known to be a part of the nightshade family, which includes thousands of plants and animals, including tomatoes, peppers, and eggplants. Nightshades contain high amounts of alkaloids. I'm not going to get into it, but apparently they're bad for your joints, among other things. For more info take a look at this article.
Of course, once we start nit-picking our food we can get into all sorts of interesting troubles. We can start talking about toxins, phytochemicals, omega-3 vs omega-6, anti-nutrients, etc. The list could probably go on forever. In fact, I'm fairly certain that if we dug deep enough into ANY food we could something "bad" for us. For some reason I don't think any of our paleo ancestors were worried about this stuff.
So, after spending the morning reading what I'm going to wisely (I think) call the "opinions" of various doctors, experts, and people who simply choose to eat this way because they think it is the best option (hey, maybe it is), this is my BASIC understanding of what it means to eat paleo.
Grains and Dairy (especially milk) are BAD.
Lots of other stuff is bad as well, but those seem to be the worst (according to my research). So, as I mentioned before, this is very similar to a gluten-free/dairy (or casein) free diet, and for pretty much the same reasons. Gluten is bad. It tears up your intestines. Lectin is bad. It is the defense mechanism grains have to prevent them from being eaten. Lactose is bad, humans (and other mammals) are not meant to be able to digest milk after weaning. Casein is bad. It also hurts your intestines (although it seems uncertain if this is because your intestines are already mucked up because of the gluten, and casein (as a protein) just irritates them, or if it causes troubles on it's own).
There is some controversy in the Paleo world about dairy because certain civilizations (like Mongolians and Maasai), have consumed dairy heavy (mostly goat though, I believe) diets, and have been healthy (their dairy was also raw, unpasteurized, and likely fermented). Also, because both lactose and casein are found in human breast milk. The general consensus is that fat-free cows milk is the worst (as it contains to highest levels of lactose and casein), and raw, full-fat, fermented dairy products are the best (hello yogurt and cheese). Raw butter and cream are also "OK" because they are minimally processed.
So many rules!
According to Diana Hsieh, among other things, we should, "reject the meaningless concepts of 'moderation' and 'balance' as applied to diet". Basically I should just eat bacon and eggs for breakfast every morning. Maybe with a side of sausage.
Of course I would have to give up the tomato because it's a nightshade (and triple check that the mushrooms are not poisonous), but the rest is good for me. I mean, I'm not actually on the move all day "hunting" and "gathering" my food, but I bike to work (7 months out of the year), so it should all work itself out right?
Of course I could just accept this for what it truly is. I mean, obviously farmers are only being subsidized by the government as a conspiracy to make me fat right? That's clearly the explanation for everything. I should probably trust no one, move into a cabin in the woods, and live off the land.
Of course, it's all very tempting, and I absolutely would, but I hear the internet connection up "there" isn't the best, and I wouldn't want to deprive you of my posts :)
So, while I am clearly having a hard time taking everything about this diet seriously, I will continue to do my best avoiding milk and grains (and you thought GF was hardcore).
Some Resources I Used

The Beginners Guide to the Paleo Diet